Impeccable Bathroom Plumbing in Greer, SC & Surrounding Areas
Though many homeowners think they have the do-it-yourself know-how to take on a bathroom plumbing issue or remodel, this is not always the case. Some jobs are just too big for the average person. When you just don't have the finesse to take on such a daunting task, reach out to our team of pros for superior bathroom plumbing services near Greer, SC!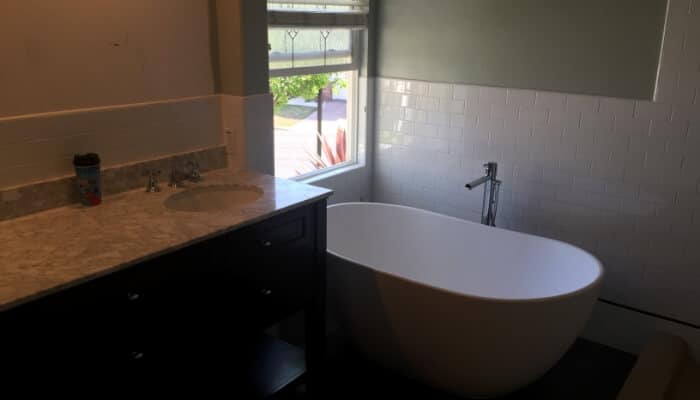 Our Bathroom Plumbing Services Near Greer, SC
As licensed and highly trained plumbers, our team can help you with issues such as:
Shower Replacement Services
If your shower is showing signs of wear and tear or is outdated, our shower replacement services are the perfect solution. We will help you choose from a wide selection of shower options that suit your preferences and budget. Our experienced plumbers will handle the installation professionally to ensure a safe and leak-free shower area.
Installing a Bathtub
Enhance your bathroom's functionality and aesthetics with a new bathtub installation from Superior Plumbing. With various styles and materials to choose from, we will help you find the perfect bathtub to suit your space and preferences. Our team will ensure proper installation, ensuring you have a relaxing and enjoyable bathing experience.
Bathroom Design and Remodeling
Looking to transform your bathroom into a modern and luxurious space? Our team will assist you with bathroom design and remodeling services that align with your vision and budget. From concept to completion, we'll handle every aspect of your bathroom remodel, ensuring a seamless and stunning transformation.
Sinks, Faucets and Toilets
Superior Plumbing offers installation, repair and replacement services for sinks, faucets and toilets. Whether you want to upgrade your bathroom fixtures or need repairs to resolve issues, our skilled plumbers will handle it with precision and care.
Showers and Bathtubs
Apart from shower replacement and bathtub installation, we also provide maintenance and repair services for existing showers and bathtubs. If you encounter any issues with your shower or bathtub, our team will promptly assess and fix the problem to transform your bathroom into a luxury space to relax in.
Plumbing Upgrades
If you're looking to enhance your bathroom's plumbing system with the latest technologies and efficiency upgrades, our team will recommend and implement solutions that optimize water usage and save energy. From smart plumbing solutions to water-saving fixtures, we will help you increase your home's value and elevate your comfort.
Common Bathroom Plumbing Problems
Perhaps you are looking at the other side of the coin and are having a problem with your fixtures or the plumbing in your bathroom. We can assist you with those issues as well. We can:
Clogged Drains: Soap scum, hair buildup, food scraps and non-flushable items can all lead to blockages. By watching what goes down the drain, installing a hair trap in the shower and calling a plumber for stubborn clogs, you can keep your pipes clean and clear.
Running Toilets: If your toilet is constantly running, there may be an issue with the overflow tube, flush valve or fill valve. You should schedule a repair as soon as possible to avoid water waste and increased utility costs.
Low Water Pressure: It's important to find the underlying cause of weak water pressure and get it repaired as soon as possible to prevent plumbing damage. Some of the most common causes are leaks, debris buildup, outdated fixtures and faulty pressure regulators.
Leaky Pipes: Finding and repairing small leaks before the escalate is key to preventing water damage and costly repairs. A professional plumber will be able to locate the source of the leak and make necessary repairs and replacements quickly.
Dripping Faucets: A constant drip from your faucets is more than annoying - it can be a sign of a bigger internal issue. Dripping faucets are commonly caused by damaged cartridges, broken washers and issues with the water pressure that can be resolved by a plumber.
Water Heater Issues: Whether there never seems to be enough hot water to go around or water isn't heating at all, water heater issues need to be repaired as soon as possible to prevent safety hazards and water damage. A plumber will check parts like the thermostat and temperature & pressure relief valve to find and repair the cause of the problem.
We offer a variety of solutions for all these situations and more. We snake drains, hydro-jet sewer lines, employ sewer and drain camera inspections and detect leaks. Our plumbers will stop at nothing to get your bathroom back up and running smoothly again.
The Superior Choice Is The Best Choice
When you choose Superior Plumbing Services for your bathroom plumbing, you are making the best choice for your family. Your bathroom should be your oasis. A place for you to wash the cares of the world away or clean the little toes of your precious babies. Our work is unparalleled and will put the sweet back in your en suite.
If you're dealing with a hairy situation in the shower or want a new throne to perch upon, call Superior Plumbing Services today at 864-438-0599 .