Water Quality in Greer, SC & Surrounding Areas
Is your water quality questionable? Does it have a strange smell or discoloration? Are you concerned about mineral deposits and chlorination affecting your family? You may want to invest in a whole house filtration system for your Greer, SC, area home. Superior Plumbing Services can help you determine which system would work best for your house. We also provide installation and maintenance services for all water systems.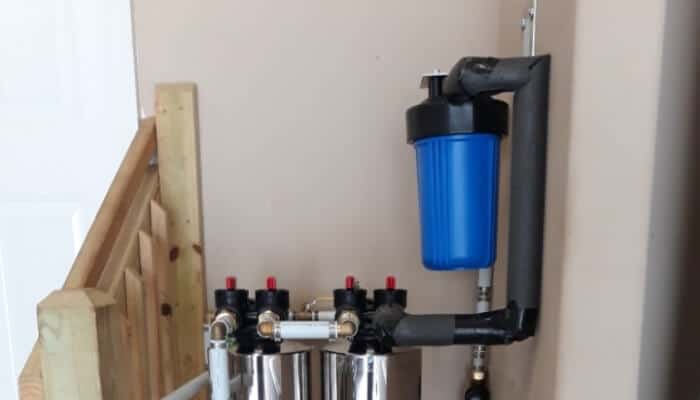 Benefits of Water Filtration
Whole house filtration can make your home's water safe as well as tasty. Investing in a filtration system definitely comes with many benefits that you can start enjoying right away.
Improved Taste & Odor
Filtered water is purer, fresher and tastier, without any unpleasant odors. Filtering your water eliminates chlorine and other impurities that affect flavor. You'll be able to enjoy better water straight from the tap.
Removal of Harmful Contaminants
Even if your water looks clean, it may contain invisible but harmful contaminants. Our water filtration systems remove common pollutants like lead, mercury, pesticides and bacteria, ensuring that you and your family have safe drinking water.
Health & Well-Being
Access to clean and purified water not only improves taste but can also benefit your overall health. Drinking filtered water can improve digestion, increase energy levels and improve immune system function.
Better Skin & Hair Health
Mineral buildup in unfiltered water can dry out skin and hair, leading to irritation. Filtered water helps preserve your skin's natural moisture for smoother and healthier skin. It also helps keep your hair softer and more manageable with reduced breakage.
Extended Lifespan of Appliances
Mineral deposits and sediment buildup can speed up the wear and tear of your appliances and plumbing system, shortening their lifespans. Filtered water prevents buildup to protect your dishwasher, washing machine and other water-based appliances.
Eco-Friendly Solution
Single-use plastic water bottles are not only harmful to the environment but quickly add up in cost. By choosing water filtration over bottled water, you're contributing to environment conservation and saving money by reducing plastic waste and your carbon footprint.
Our Water Filtration Services
A new water filtration system for your home is an investment with immediate benefits and long-term savings. Superior Plumbing is here to help you find the right system for your home with advanced filtration technology that removes impurities, sediments and harmful substances for safer, tastier water.
Purified Water Solutions
Our purified water solutions ensure that you have access to the cleanest and freshest drinking water in Greer, SC. We utilize advanced filtration methods to remove contaminants from your water supply so you can say goodbye to unpleasant tastes and odors, and enjoy pure and refreshing water at your fingertips.
Alkaline Water Filtration Installation
Alkaline water filters deliver pure, filtered water packed with health benefits. Once the contaminants are removed, the alkaline water filter introduces healthy minerals to increase the pH level. Alkaline water can contribute to improved hydration, better digestion and enhanced overall healthy and well-being.
Whole-House Reverse Osmosis System
How does reverse osmosis work? Reverse osmosis is the process of filtering tap water through a semi-permeable membrane to collect and flush away contaminants, leaving you with pure and refreshing drinking water. Reverse osmosis systems from Superior Plumbing ensure that every tap in your house delivers the purest water possible.
Small Water Softener Solutions
Hard water is a common issue in Greer, SC, leading to limescale buildup and potential damage to your appliances. Our small water softener solutions effectively soften the water, preventing scale accumulation and extending the lifespan of your appliances.
Let Superior Plumbing Services Keep Your Family Healthy and Happy
Superior Plumbing technicians will walk you through the decision-making process to ensure your new water filtration system fits your specific needs. Our personalized service is what sets us apart from other plumbing companies.
We will install your system in a timely and clean manner to cause as little disruption to your lifestyle as possible. You want the best for your family, and we want the best for you. Contact Superior Plumbing Services and make a healthy choice for your family and your wallet! Call us today at 864-438-0599 or contact our team online below!