Clear out the Blockage Fast with Professional Drain Cleaning Services Greenville, Greer, SC and Beyond!
Over time soap, detergents, fat, grease, and hair build up inside your pipes and drains. These elements cause drains to clog up and cause drainage problems including clogs. At Superior Plumbing Services, we know that a clogged drainage system is not only a major inconvenience, but it needs to be cleared out quickly to prevent other damage to your property. We offer a number of drain cleaning solutions that allow us to inspect your sewer system, identify the problem and fix it right away.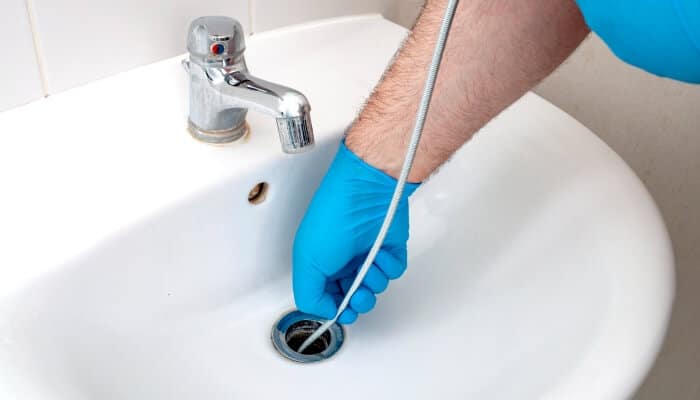 Our Professional Drain Cleaning Services
When we arrive at your property, our team of skilled plumbers will perform a video line inspection to determine the problem causing the blockage. Once we identify the issue, we will clean out your pipes and drains to restore proper water flow.
Our residential and commercial clogged drain clearing services include:
Main Sewer Clog

Camera Inspections

Kitchen Clogs

Shower Clogs

Bathtub Clogs

Sink Clogs

Blocked Septic Pipes

Clogged Sewer Lines

And Much More!
DIY Drain Cleaning Can Be Dangerous
Clearing drains can be potentially dangerous if done improperly or without proper precautions. Here are a few reasons why it can be hazardous:
Chemical Exposure: Some drain-clearing products contain corrosive chemicals such as sulfuric acid or lye. These substances can cause severe burns if they come into contact with your skin or eyes. Inhaling fumes from these chemicals can also be harmful to your respiratory system.
Risk of Physical Injury: When attempting to clear a drain, you may encounter sharp objects, such as broken glass or metal fragments, which can cause cuts or puncture wounds. Additionally, using tools like drain snakes or augers incorrectly can lead to injuries, such as sprains, strains, or even electric shock if the drain cleaning involves electrical components.
Plumbing System Damage: Without the proper knowledge and experience, attempting to clear a drain yourself may result in unintentional damage to your plumbing system. For instance, using excessive force or improper tools can lead to pipe leaks, cracks, or even a complete pipe breakage, leading to costly repairs.
Unseen Hazards: Within the drain, there may be hidden dangers that are not immediately visible. These can include hazardous substances like toxic chemicals or harmful bacteria. Disturbing these substances during the DIY drain clearing process can pose health risks.
Lack of Expertise: Professional plumbers undergo training and have the experience to handle various plumbing issues safely. They possess the knowledge to identify potential risks and take appropriate precautions. As a non-professional, you may lack the expertise to handle unexpected situations that may arise during the process.
One simple call to Superior Plumbing Services can ensure that drain clearing is done safely and effectively. We have the necessary equipment, knowledge, and experience to handle the task without putting you, your family, or your property at risk.
Clogged Drain Clearing FAQs
How much should it cost to clear a drain?
In general, the cost to clear a drain can range between $100 to $500 or more near Greenville, SC.
The cost to clear a drain in and around Greer, SC can vary depending on a few factors such as the location of the drain, the severity of the clog, and the type of drain. For example, a simple clog in a kitchen sink drain might cost around $100 to clear. Removing laundry drains may run between $150-$215. Fixing toilet blockages costs between $100-$250 on average, and a more complicated clog in a main sewer line could cost upwards of $500 or more.
How much does it cost to snake a clogged drain?
In general, the cost to snake a clogged drain near Greer and Greenville, SC can range from around $100 to $300 or more. The cost to snake a clogged drain can vary depending on a few factors, such as the location and severity of the clog and the plumber you choose to hire.
Do plumbers recommend drain cleaners?
When it comes to unclogging drains in and around Greer and Greenville, SC, conventional chemical cleaners may not be the best solution because they can also be harsh on your home plumbing system and the environment. Drain cleaners contain powerful chemicals that can corrode pipes over time and can also harm the environment if not disposed of properly. 
Contact Superior Plumbing For Any Drain Cleaning Solution near Greer, SC
For professional residential and commercial drain cleaning services in Greer, Greenville, Spartanburg and the surrounding areas, contact Superior Plumbing Services now. We are an experienced and licensed plumbing contractor and we are ready to help with your clogged drains.