Sewer Cleaning, Repair & Replacement in Greer, SC and Beyond!
Are you tired of your toilets flushing slowly? Has a septic company informed you your drain fields could be compromised? Is your sink or garbage disposal not siphoning as it used to? When these issues happen they need to be addressed as soon as possible, especially if plunging and or snaking have not relieved your issues. Superior Plumbing Services is here to take the worry out of your day with our expert sewer services in and around Greer, SC.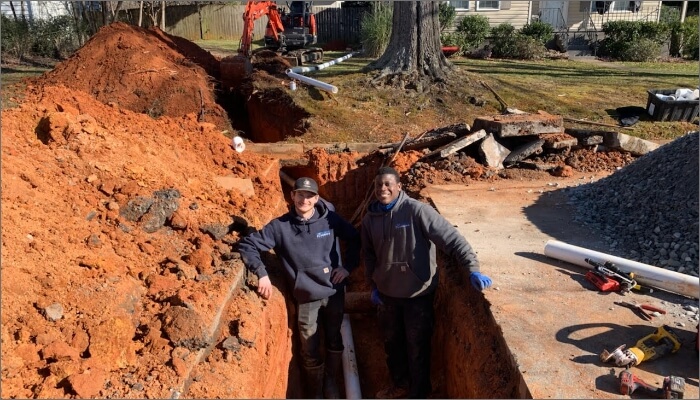 Causes of Sewer Problems
Slow drains can be caused by several different issues. Some of the more common causes of sewer and drain problems include:
Roots - Roots can penetrate through drain and sewer lines making it difficult for your system to work efficiently.
Soap - Over time, soap builds up in shower drains and can cling to the walls of drain pipes constricting the normal flow of water through your lines.
Grease - You should never pour grease into your drains because it solidifies and creates messy clogs that might even need to be jetted.
Our Sewer Services
Sewer Line Cleaning - Sewer line clogs are caused by a number of things we send down our pipes. Our sewer cleaning services will get your line unclogged quickly.
Sewer Line Repair - Sewer repair can get messy and expensive if you don't partner with the right plumber. Call on our team for honest quality repair work on your sewer line. We use camera inspections to see exactly what is going on beneath the surface so we can accurately fix your line.
Sewer Line Replacement - We also provide full sewer replacement and installation services for older or severely damaged lines.
We Handle All Your Sewer & Drain Needs
Not only do we service sewer and drain lines, but we install them as well. We manage everything from drain field inspections to bypassing your septic tank altogether and running a new sewer line to your local municipal sewer (if available) For all your sewer and drain needs, call us today at 864-438-0599 and set an appointment to have your sewer and drains cleaned by the best. Protect your home and business with Superior Plumbing Services today and every day!