Professional Sewer Line Repair In Greenville, Greer, SC and Beyond!
If you experience drain clogging, strange odors or moisture on the ground of your home, you are most likely experiencing a damaged sewer line. When your sewer line or main sewer drain is damaged, it may lead to an unpleasant experience unless you call in the services of an experienced professional plumber who is fully equipped to deal with your sewer repairs. Superior Plumbing Services is ready to help fix your broken sewer line with the quality and experience we bring to every job.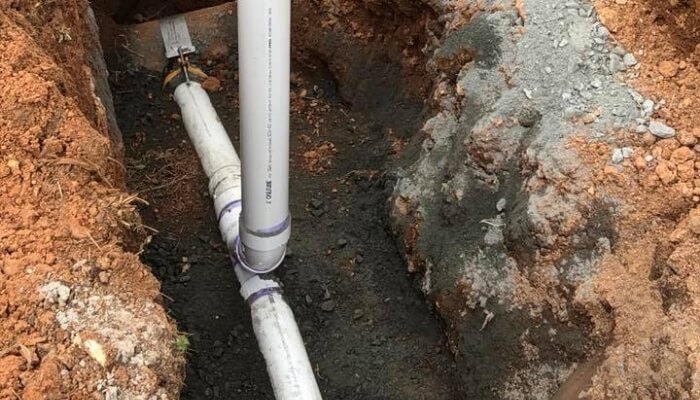 We Can Help You With a Variety of Sewer Services
Superior Plumbing Services is a licensed sewer line contractor for water services and can take care of all your residential and commercial sewer repairs. We utilize sewer camera inspections to target the specific area of your sewer line that needs to be repaired. Our repair services are fully discussed with you before any work is complete so you are a part of the process.
We specialize in:
Cast Iron Sewer Repair

Clay Sewer Piping Repair

Clean-out Installation

And More!
How do you repair a cracked sewer line?
Repairing a cracked sewer line typically involves one of two options: a spot repair or a full sewer line replacement. A spot repair involves excavating the affected area, cutting out the damaged section, and replacing it with a new section of pipe. This option is generally less expensive and less disruptive, but it may not address underlying issues with the rest of the sewer line. A full replacement involves digging up the entire length of the sewer line and replacing it with a new pipe. This option can be more expensive and time-consuming, but it may be necessary if the sewer line is old or damaged throughout. It's important to consult with a licensed plumber to determine the best option for your specific situation.
How do you know if your main sewer line is broken?
Your main sewer line may be broken if there are any of the following signs:
Showers, tubs, and sinks with slow drainage

Drains that make gurgling or bubbling noises

Drainage odors that are offensive

Sinks, tubs, or toilets with sewage backups or overflows

Your yard has some wet or lush grass patches, even in the dry months.
It's crucial to contact a qualified plumber as soon as you notice any of these symptoms so they can evaluate the situation and recommend the best course of action.
How much does it cost to replace a sewer line?
The cost to replace a sewer line can vary depending on several factors, such as the length of the line, the severity of the damage, and the method of replacement. On average, the cost can range from $3,000 to $7,000, with more extensive repairs costing upwards of $10,000. It's important to obtain multiple quotes from licensed and reputable plumbers to compare prices and ensure a fair and competitive price.
Connect With Our Professional Plumbing Team
For top-quality sewer line repair in and around Greenville, SC, you need superior service from your plumbing team. Call the pros at Superior Plumbing Services today at 864-438-0599 - we are licensed, insured and highly trained in all things sewer.