Expert Hydro-Jetting in Greenville, Greer, SC and Beyond!
Are you noticing bad odors coming up from your drains, recurring clogs or partially flushing toilets? These are all signs that you may have a major blockage deep in your sewer. If left alone, a clog will get worse until the signs you notice are unbearable. While the occasional backup can be dealt with through plungers or plumbing snakes, heavy-duty clogs require even stronger solutions. With the advanced hydro-jetting services from Superior Plumbing Services, we can power through even the toughest clogs.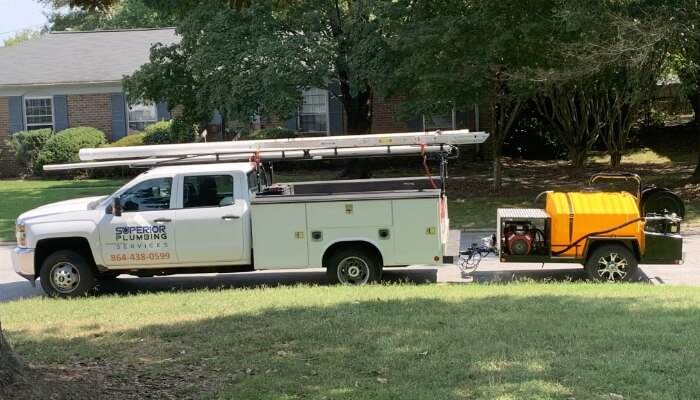 Signs of Sewer Trouble
In addition to bad odors, backups and faulty toilet flushing, any of these signs below can indicate a major sewer problem:
Toilet Flooding After Flushing

Gurgling Noises From Drains

Clogs Present in Multiple Drains

Using One Fixture Floods Another
And in cases that go on for too long, you can have hazardous sewage backup. We can take a good look at what is causing your issues with a camera inspection prior to taking action.
The Method Behind Our Great Results
Hydro-jetting is the use of high-pressure water and specialized tips to break through clogs as well as clean residual matter from your drain line. No matter what type of clog be it grease, waste, paper, washcloth (yes, it has happened) or almost anything else you can think of, we can take care of it. We can access it through an outside clean-out, or if need be, we can gain access by pulling up a toilet and resetting it. Septic tank or municipal sewer system, we can clean your drain pipes with ease.
Choose the Superior Solution
When you choose Superior Plumbing for hydro jetting, you aren't simply getting a transaction, you're receiving a relationship you can turn to for quality throughout the initial call, job performance and follow-up. Dealing with a tough clog near Greenville, Spartanburg, Anderson, Clemson, Greer, Easley or Simpsonville? Call us at 864-438-0599 .