Water Line Inspectors and Installers in Greer, SC and Surrounding Areas
Waterlines are the main arteries of your home. When something goes wrong with one, it can halt everything. Leaks within walls can be very hard to deal with as the problem might not surface till long after it began. Also, freezing temperatures during the winter can cause pipes and outdoor spigots to burst and flood your home and yard. For full plumbing services on your home's water line, Superior Plumbing Service has got you covered.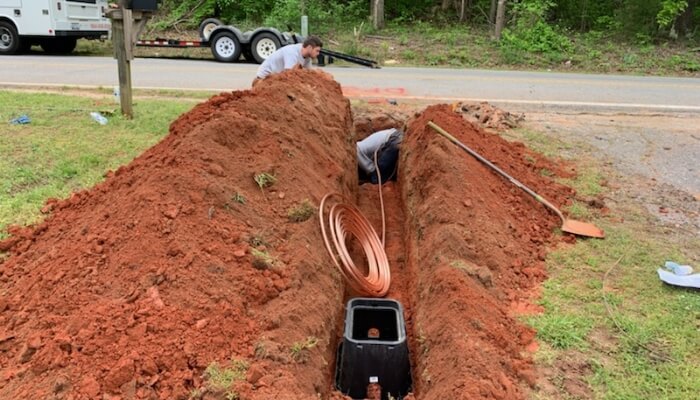 Signs of Water Line Issues
Dampness in areas that are normally dry.

Water leaching in areas in your yard.

Water pressure is not as strong as it used to be.
If any of these issues are plaguing your home, you need a professional inspection today. Our technicians can use applications such as manual leak detection and electronic leak detection to help determine the cause of your water woes.
We Have The Solutions for Water Line Issues
Some water line leaks can be fixed with simple repairs while others may require special consideration. If the leak is in a wall or ceiling, we may need to expose the area to determine exactly where the leak is originating from. Should the issue be in the yard, we can use our detection instruments to assist in locating the problem before we repair the damaged line.
In some instances where there are multiple leaks present in a water line, we may suggest a new main water line be installed or a whole house repipe if necessary. In cases such as these, you want a professional to perform the work. Superior Plumbing Services are those pros. We have performed these services for several other clients and achieved tremendous reviews for our clean and concise workmanship. On that note, all services provided by Superior Plumbing Services are backed by an industry-leading Lifetime Warranty on Workmanship. Call us today and get the Superior Experience at 864-438-0599 !